Fort Worth Drug Crime Attorney
Defense from a Former Police Lieutenant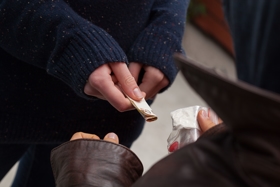 When faced with a possible drug crime conviction, your future is at stake. The Texas legal system can be confusing, and trying to fight such charges on your end may result in less than desirable results. You need the defense of someone who understands the inner workings of drug crimes. As a former police officer, Attorney David Sloane has experience few other lawyers have.
He can represent clients facing the following types of charges:
Distribution
Cultivation or manufacturing
​​​​​​For 20+ years, he has served the local community as a Fort Worth drug attorney and achieving immense success. The respect he has earned makes his counsel a formidable force in the courtroom. Clients who choose to put Attorney David Sloane on their side of the courtroom can trust that their rights and liberties are protected.
We're ready to hear from you. Call (817) 349-7118 to learn how the Law Offices of David Sloane can help today.
Charges for Drug Crimes Carry Serious Weight
The state of Texas considers both the drugs themselves and the compounds used to manufacture them illegal. This means that if you are found with any kind of controlled dangerous substances on your person, you could be arrested.
Drug crimes include marijuana possession, manufacturing and cultivation, trafficking and distribution, and paraphernalia.
While the penalties for each may vary, common charges include:
Up to thousands of dollars in fines
Between two years to life in prison
Mandatory drug treatment programs
Felony conviction
​​​​​​Sentences may be more serious for subsequent offenses, the type of drugs involved, or for crimes that took place in school or other drug-free zones. Texas is known for carrying out harsh penalties for drug crimes – you can expect that a heavy hand in justice will be served.
When your rights and liberties are hanging in the balance, you cannot afford to put your trust in mediocre defense. At the Law Offices of David Sloane, you can trust that Attorney Sloane will utilize his legal abilities and knowledge in attempt to secure a favorable outcome on your behalf.
Talk to a Committed Fort Worth Drug Lawyer Today
The right advocate can make all the difference in the outcome of your case. You deserve someone who will dedicate themselves to fighting for your future – Attorney David Sloane treats every client with the appropriate respect and attention they warrant.
If you're ready to take steps toward a better future, contact the Law Offices of David Sloane today and schedule your free consultation with a Fort Worth drug crimes attorney. We serve clients throughout the state of Texas!